Discover more from The Adventure Gaming Periodical
The AGP: A weekly Queer gaming magazine published by RV Games and edited by Violet Ballard
Over 1,000 subscribers
This week's issue of The Adventure Gaming Periodical is a publisher update from RV Games. We've been building our pipeline of projects for the rest of the year and through 2024, and we're excited to share our tentative schedule. This schedule could change quite a bit, but publishing it helps keep us accountable to ourselves.
In a little over a year, RV Games has grown from making a single digital release to having a pipeline of games developed in-house and published for others. We're excited to finish out our series of six Microgames (print and play available for paid subscribers and via DTRPG), publish games in new genres and from new places, to finally release Orgy of the Blood Leeches, and to work with some very talented new collaborators.
The Adventure Gaming Periodical is a reader-supported publication. To receive new posts and support my work, consider becoming a free or paid subscriber. Paid subscribers gain access to free games and other exclusive materials.
November 14-December 12
---
2024 Crowdfunding Schedule
January 16-February 13
We finally have a date for the launch for Advanced Rules on BackerKit Crowdfunding. This is our community compendium of house rules for Mothership 1e including a full solo and wardenless methodology.

The entire book is a work in progress, but you can access the draft rules for free online. These rules will always be available free in addition to the fully laid out book available physically and via DTRPG.

Dev editing with Roz Leahy has just started dev editing on this project!

curiousfriend will now be providing illustrations to update the cover and for the crowdfunding campaign.
---
February 13-March 12
Hecate Sector - Part 2 - Kickstarter
We're so excited to be publishing a larger zine taking place in the Hecate Sector with Joshua Justice for this year's ZineQuest.

The first adventure in this sector is Radio Free Hekate, which is available physically, via Itch, DTRPG, and for paid subscribers.

This will be with the same team who made Radio Free Hekate with D.N. Wilkie providing layout and editing and Amanda Franck providing illustrations.
---
April 9-May 7
Microgame #4 - Baseball - The Game Crafter Crowd Sale
Baseball reimagined as a hex and counters wargame. This is not your typical baseball simulation, it has a focus on the nitty gritty decisions made by players instead of on the managerial and statistics focus of most baseball boardgames.
---
June 4-July 2
Microgame #5 - Left at Home - The Game Crafter Crowd Sale
Evil Dead meets Home Alone in this ttrpg and wargame inspired boardgame of hidden movement.
---
August
We're partnering with Urania Games out of the Phillipines to publish a physical edition of their solo journaling or duet biker duel game, Hit the Road, Jack!.

This will take the form of a tarot deck and will be further edited to fit this format by me!
---
September
We will finally be launching Orgy of the Blood Leeches for crowdfunding next Fall. This boxed Mothership 1e campaign has already been in development for over a year, and we're going to continue the work through the next year.

We hope to put out a free demo featuring a vertical slice consisting of the first area of Trellick Station. This will be released sometime during the first half of 2024.
---
October
Microgame #6 - North African Escape - The Game Crafter Crowd Sale
A hex and counter wargame inspired by the GDW classic Beda Fomm. This is the one historic game within our first season of Microgames. However, it is not a simulation of a specific battle, it is instead about capturing the vibes of Beda Fomm while using my Panic Engine inspired WIP wargame system, Disrupter.
---
November
Other Suns - Kickstarter
This project is still unannounced, and I'm not going into too much detail. However, I am very enthusiastic about the concept art that has been generated by Sam Wildman and Holly Jenka for this project.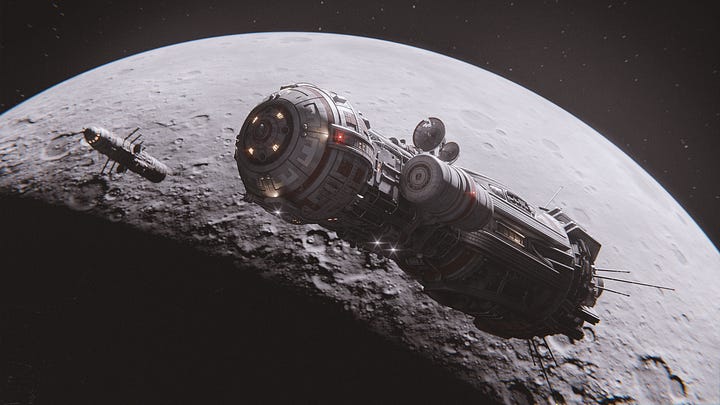 ---
December
Mitosis 2nd Edition - The Game Crafter Crowd Sale
We will be publishing a 2nd edition of our abstract strategy board game Mitosis. River Schenkat is developing new pieces and rules to expand on the deluxe edition of the game.

These versions will only be for the board game, they will not include the Mothership adventure, Mitosis: Escape From STAR Station. This pamphlet adventure is available in a physical edition, digitally via DTRPG, and for paid subscribers to this magazine.
---
Distribution
In addition to the games that we are publishing as RV Games, we are also set to distribute the game Earth A.D. for Hammer City Games. There is a free PDF starter zine for this game available now, and Hammer City Games will be running a Kickstarter for a box set with a hardbound player's guide, a gm handbook zine, an adventure zine with many fabulous collaborators, and a gm screen.
After our very successful collaboration with Hammer City Games on their Mothership module Graveyard of the Gods, we are very excited to continue to support them with product development, physical production, distribution, and fulfillment of this much larger project. We will be featuring an interview with Brenden Carlson about this project later in November.
---
Upcoming in The AGP
10/24 - Issue #7 - An Interview with the Creators of An Infinity of Ships

10/31 - Issue #8 - A Review of Altar Shock by Disaster Tourism

11/7 - Issue #9 - An Interview With watt, creator of Cloud Empress

11/14 - Issue #10 - A Review of Turbulence for Mothership by Green Moon Games

11/21 - Thanksgiving Week - No Issue

11/28 - Issue #11 - An Interview With Brenden Carlson of Hammer City Games About Earth A.D.
---
Currently Crowdfunding
GURPS inspired Zombie Apocalypse TTRPG created in Fresno, California
A massive bundle of Mothership 1e modules and a campaign structure that features 12 veteran designers
A toolkit and selection of space ships with art by Rob Turpin. Also features Lesbean Ships!